Client: Museo Eduardo Carrillo
"★★★½ Highly Recommended"
—Video Librarian Magazine
Synopsis:
A LIFE OF ENGAGEMENT is the award-winning story of an American artist discovering his Mexican cultural heritage. This film expresses the challenges that first generation Americans face everywhere and communicates a positive message about becoming a successful American while preserving one's roots.
Filmed over 4 years across California and in Baja California, Mexico, it explores the fascinating life of an artist who lived through the tumultuous social changes of the 60s and 70s.
The film brings the artist's life to light through images of his paintings, his workshop, and interviews with his
contemporaries, historians, art critics and family. It is a cross-cultural examination that illustrates a
painter's ability to use art as a medium to discover and preserve his heritage.
Eduardo Carrillo was an American painter, muralist, community activist and U.C. Santa Cruz art
professor who synthesized his Mexican heritage into monumental murals and paintings. He was a
cultural pioneer whose innovative and historically inspired artworks addressed the escalating racial
diversity issues from the 1970s forward. Carrillo remains a relevant artist and exceptional role model
for the growing Latino populations in the United States.
Credits:
Length: 33 mins
Year: 2015
Format: HD, Color
Country: USA
Director: Pedro Pablo Celedón
Executive Producers: Alison Carrillo, Betsy Andersen
Line Producer: Milenko Skoknic
Camera: Pedro Pablo Celedón
Sound: Milenko Skoknic
Editing: Brian Ufberg & Pedro Pablo Celedón
Ordering Information:
Individuals $22.99; K-12 Schools $75; Public Libraries $95;
Colleges/Universities $285; Museums $285; Corporations $325
Please Contact: info@bareprod.com
[feather_share]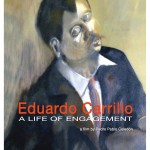 Portfolio Categories:
Past
.